Previous winners of the Beer and Health Publication Award
For the best, most remarkable scientific publications focusing on moderate beer or alcohol consumption.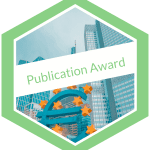 The Beer and Health Initiative offered its first Publication Award in 2021 to the lead author of the best, most remarkable study published in 2020 focusing on moderate beer (or alcohol) consumption. The winner, Víctor Micó, received a monetary prize of €1,000 and will present his research at the next Beer and Health symposium. 

Winner Publication Award 2020
Out of many applications from all over the world, the Scientific Committee of the Beer and Health Initiative elected Víctor Micó, a Spanish Postdoc at IMDEA Food Institute, as the winner of the Beer and Health Publication Award 2020. The quality of his study towards the effect of alcoholic and non- alcoholic beer on plasma and macrophage microRNAs in men with cardiovascular risk was outstanding and very original.
"Even though this study is still in embryonic stage with a limited sample size, this paper stood out due to the quality of the research and the interesting and original method used. It is a very interesting basis for future studies, and we hope the authors keep up the good work", says Prof Ramon Estruch, President of the Scientific Committee of the Beer and Health Initiative.
We interviewed Victor Micó about his research and his academic aspirations. You can read the interview here. 

Beer and Health Initiative
The Beer and Health Initiative is a science-based Platform on the health effects of moderate beer consumption. The base of the Initiative is its up-to-date database, were all published scientific articles focusing on the biomedical, nutritional and psychosocial aspects of moderate beer and alcohol consumption are gathered. The initiative communicates about this scientific literature on the Beer and Health website, social media channels, publications and through a monthly newsletter. Also European Beer and Health Symposia are organised every two or three years.
The work and daily management are processed by The Technical and Scientific Secretariat. Though, the publications and activities of the Institute are thoroughly reviewed and endorsed by our Scientific Committee: six outstanding experts in alcohol research. The Beer and Health initiative is supported financially by The Brewers of Europe.